Which bed and mattress is right for you?
Has your divan bed reached its sell by date?
If you're waking up with aches and pains, and not getting a good night's sleep in general then it could be a sign your divan bed is on its way out!
Your bed is your friend so you need to take care of it and replace the mattress at least every 5-7 years.
Signs that your bed/mattress may need replacing are:
It is more than 7 years old
Your partner encroaches on your side of the bed!
You feel lumps and bumps in the mattress that dig into you while sleeping
You sleep better in someone else's bed!
You hear squeaks and other weird noises when you move around in bed.
You wake up with aches and pains and don't feel like you've slept well.
The mattress is dirty or has mites or other things lurking inside it that shouldn't be!
How to choose a new bed that's right for you
When picking a bed that's right for you it mostly boils down to your own personal preferences - one size doesn't fit all! Some like a soft mattress, while others prefer a medium or firm tension.
The size of the bed also makes a huge difference especially if you're taller or shorter than average. If you're sharing a bed it's worth making sure you both have enough room to move without disturbing the other too much.
We'd recommend you allow an extra 4-6″/10-15cm on the length on top of the tallest person. So if you're over 6′ tall a longer than standard length bed would be better.
What are the 'standard' UK sizes?
UK standard bed sizes are shown below:
| Type of Bed | Imperial Sizes | Metric Sizes |
| --- | --- | --- |
| Small Single | 2'6″ x 6'3″ | 75 x 190 cm |
| Single | 3′ x 6'3″ | 90 x 190 cm |
| Small Double | 4′ x 6'3″ | 120 x 190 cm |
| Double | 4'6″ x 6'3″ | 135 x 190 cm |
| King | 5′ x 6'6″ | 150 x 200 cm |
| Super King | 6′ x 6′6" | 180 x 200 cm |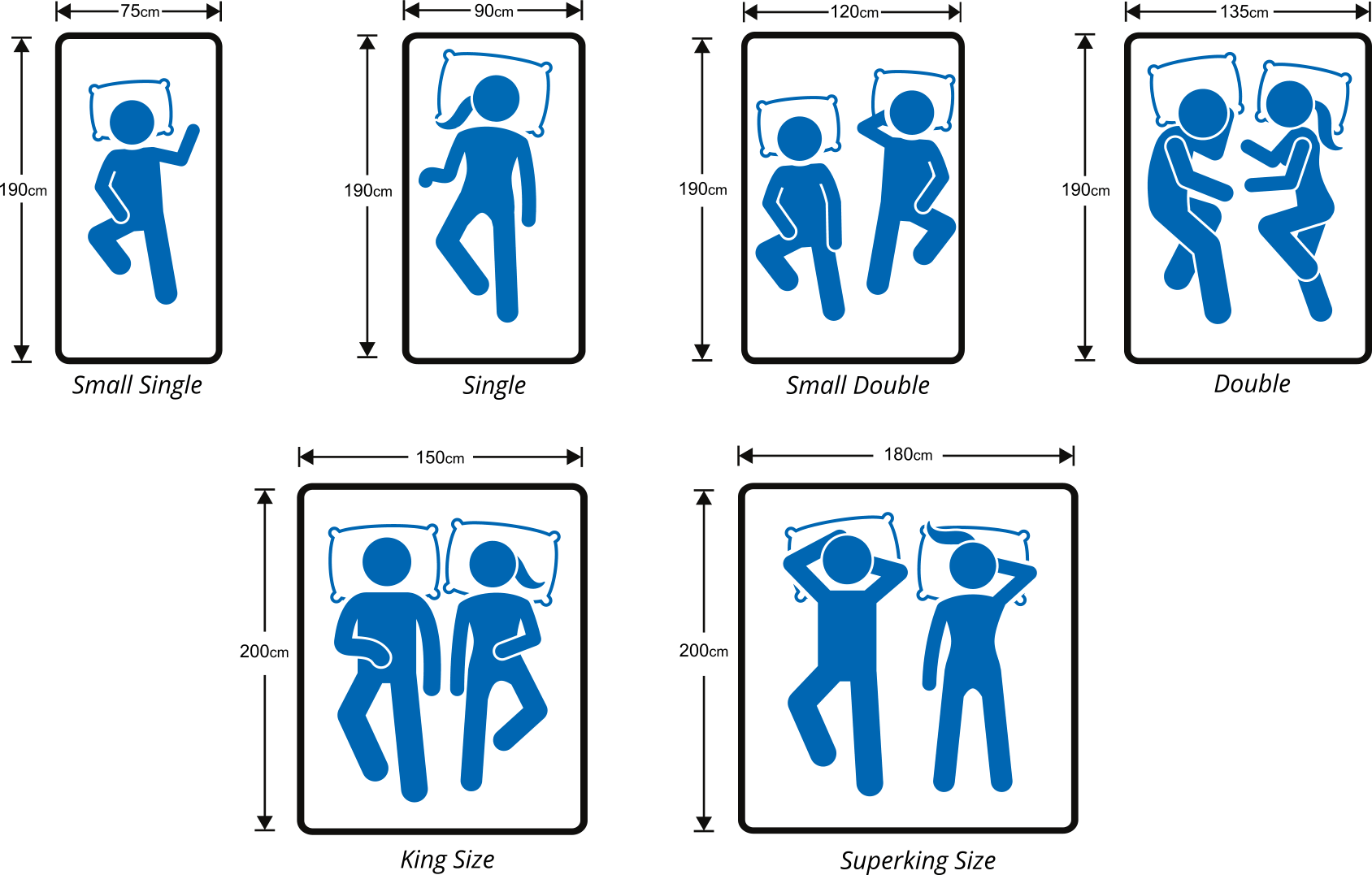 If you're looking for a bed with storage options, a divan is an excellent choice. You can choose from 2, or 4 drawers, or a sliding door. Each has its own merits, but if you're stuck for floor space a slider is probably your best bet.
Our divan beds are custom made to suit your needs. They come in various colours and a choice of fabrics. You can even get a headboard or footboard to match
Mattresses
The best mattresses are usually comprised of a knitted or woven fabric such as quality viscose or cotton. Then you have the medium range which are made from polyester or printed fabric. And lastly budget priced mattresses which are often stitch bonded..
'Quilting' is a decorative effect that attaches the outer fabric to the surface fillings and this gives the mattress a smoother, flatter surface than a tufted one.
'Tufting' is where tapes are passed all the way through the mattress at regular intervals and then secured by tags or washers on either side. This keeps loose fillings in place.
'Side Stitching' usually forms part of the more expensive mattresses as the side panels (typically pocket sprung mattresses) are hand side stitched. This stitching will allow the mattress to keep its shape for longer.
Sprung vs Pocket Sprung
These are the most common type of mattress. The springs are arranged in rows that are connected to each other on the top and bottom by a spiral helical wire that has an outer rod that strengthens the perimeter. Available Firm 12.5g and 13.5g soft to medium tension as a guide and will be at the lower to mid range budgetwise.
These mattresses are of better quality. Each spring is individually packed in small calico pockets and each works independently. They are nested by hand in a honeycombed shape and tied in the centre by linen cord. They offer the best type of support and are more durable than open coil mattresses so they tend to last much longer as they retain their shape.
As the springs are individual set they respond better to body movement and help to eliminate roll. The number of springs range from 600 to as many as 4,500 and have varying tensions. Typically the more springs, the firmer the tension, but this is also determined by how much and the type of filling inside the mattress. Some even have a memory foam topper built in!
Which mattress is best?
Personal preference plays a big part in choosing a mattress. It's important though if you have a specific need that you choose a mattress that is right for you, rather than taking pot luck.
For instance if you have a medical condition such as spinal issue you should take advice from your doctor before choosing a mattress. Choosing the correct one plays a big part as you could find ithe problem is exacerbated rather than alleviated.
There is no bed or mattress in existence that is perfect for everyone's individual needs. After all, what floats your boat won't float someone else's!
The bottom line is choosing a mattress is really down to personal preference and budget.
If you are ready to purchase a new bed give us a call. We will talk you through the best option based on your individual needs.